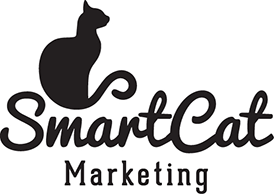 Nicole Gallant is a sales and marketing guru with a firecracker personality. Her enthusiasm for networking is infectious and her approach to selling is refreshingly genuine. As a leader in the Halifax business community, Nicole shares her knowledge on her website and in her blog, where she's amassed 20 amusing and informative essays about her experiences in the field.
SmartCat Marketing is Nicole's business and its brand reflects many of her unique qualities. When we met over Zoom to discuss her website, we decided to do an overall proofreading and editing of the current copy, including the 20 blog entries, in order to communicate her conversational tone while keeping grammar and consistency at the forefront of her writing.
It's easy to get carried away with commas and to mix past and future tenses when we're telling stories that we want to be engaging. For the reader, it can be fun, so long as they're not constantly hung up on having to mentally correct mistakes or re-read sentences because they're too long.
One of my favourite things to do is bring my client's personality to life in the words that they write, and I'm grateful I was able to do that for Nicole and SmartCat Marketing.