"'Dear Diary, It's Me, Stella' is an incredible book that teaches kids the power of wanting something and believing they can achieve it. I love this book!" – Keonté Beals, Musician and Author of 'I Am A King'.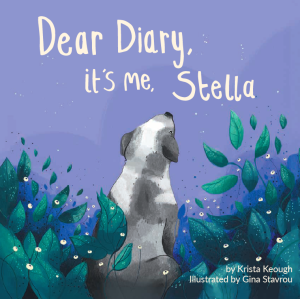 "It's dark inside the house tonight. Everyone's in bed," writes Stella, as she looks to the bedroom windows from the streets outside. Her family doesn't want her anymore. They yell at her and push her out the front door.
What she doesn't know is that there's a girl in a faraway place who's dreaming of her, and Stella's about to make way to her forever home.
Dear Diary, It's Me, Stella is written by artist manager-turned-author, Krista Keough, and is based on the triumphant true story of her XL Bully rescue dog. The children's book chronicles Stella's freedom journey, written as diary entries from her point of view, illustrated by award-winning UK artist, Gina Stavrou, using only the colours that dogs can see.
The paperback, hardcover and e-book editions are published by Friesen Press and will be available to order from their bookstore [https://books.friesenpress.com/store] and online retailers worldwide on Tuesday, October 17. For more information, visit kristakeough.com/book.
Keough sat down to journal her thoughts about her newly adopted pet and their predicament two years ago. "We were both really struggling," Keough admits. "Stella's reactive behaviour was nearly unmanageable; I was worried I was in over my head."
Instead, Keough created a story about Stella writing in her own diary, about her experiences that lead her here: from the alleyways in Atlanta, Georgia to a crowded shelter and then a three-day bus ride to Halifax, Nova Scotia. It's a story not unlike many rescue dogs.
"I thought about what she had been through and realized the strength of her unbreakable spirit. That's when I started to believe in myself," says Keough. She had taken to Instagram to vlog their daily life for months and was creating a community of foster and rescue dog families, trainers, and vet health professionals to help and share resources. "I knew that we could take on these challenges together."
Keough discovered Stavrou's artwork on the app and, although the two have never met, Stavrou says she was thrilled to be a part of such an incredible project. "I love the story and using only the colours dogs can see – like purple and blue, yellow and green – that gave me a beautiful colour palette to bring Stella's world to life".
About the author
Krista Keough is a dynamic and versatile contributor to Atlantic Canada's creative industries. Over the past 20 years, she has woven her expertise through various roles as a writer in business, the arts, and education. She lives in Canada with her two dogs, Apollo and Stella. Read more of her writing at www.kristakeough.com
About the illustrator
Gina Stavrou, aka mindofbean, is a queer British illustrator based in the United States. Her work uses vibrant colour combinations and intricate details to portray magical worlds with whimsical characters. See more of her creations at www.mindofbean.com.
###
An advanced reader copy of Dear Diary, It's Me, Stella is available to media upon request. Download the cover here and press photos for Krista, Apollo and Stella, here and Gina, here.
Press contact
Krista Keough
(902) 489-5878 krista@kristakeough.com.