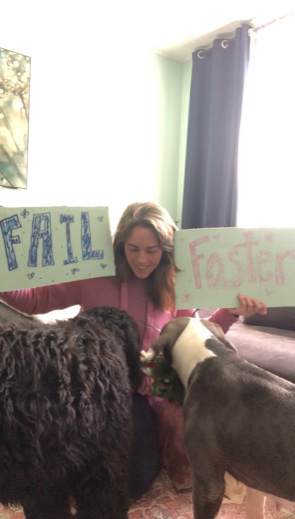 Exactly three weeks ago, I was sitting at my computer (where I am right now), working to bide my time until I could watch SNL at 12:30. I remembered a vivid dream I had the night before. I was on a beach in New Zealand with my sister. She was running ahead of me with her dog, Summit, a beautiful American Staffordshire Terrier and Labrador mix. I looked down to my right to see my dog running, too. But it wasn't Apollo. It was a grey and white version of Summit. I felt such joy in that moment, being with my sister who lives so far away, with our dogs who we love.
Thinking about that dream, I looked up Fly With Me Animal Rescue's Instagram. I knew I wanted a sister for Apollo; he has a playful spirit and I want to give him that bond of loving another dog. When my Google page refreshed, low and behold, there staring back at me was Joy. She was the dog in my dream. A grey and white pit mix. It was meant to be.
I went to the Fly With Me website and submitted both a foster and an adoption application for Joy. On Tuesday, I followed up, and the next day I had an interview and virtual house tour with Jen, an amazing volunteer. All went well and I was eagerly anticipating we'd be welcoming home our new foster on the weekend.
Early Thursday morning, Jen sent me a message. "I have news that is going to disappoint you: Joy is not available."
What? How could this be? She was perfect; literally the dog of my dreams. I couldn't understand why everything would align in this way, to bring me Joy, only for my dream to be crushed.
Later that afternoon, Jen emailed me back to say they had another foster, Selena, who they'd hoped I'd be interested in. My heart was set on one dog, but I'd also really fallen in love with the idea of fostering so I agreed to look at her photo. The first thing I saw was her big smile; Selena was not polished like Joy, but, of all the dogs in the world, she was another grey and white pit mix.
There was just one thing: she didn't look like a Selena to me. "I'll name her Stella," I thought, which means "star". Apollo in Greek mythology is the god of music, poetry, and light.
I agreed to take Selena as my foster and she was added to the truck the next morning, headed for Halifax, on her freedom journey.
I'm a content creator so I started to document our experiences together from the time that we met because I thought it would be fun for my family and friends (and to promote fostering! ). We've received so much support that I'm going to keep making and sharing our videos on Instagram @kristakeough as we're learning new things. And I hope you all follow along.
I wanted to share this story because I know many people who are, or want to, foster and adopt. There are so many emotions, so many ups and downs. I had no idea what I was getting into, but I can wholeheartedly say now, exactly three weeks later, I truly feel I have brought Joy to our home. And her name is Stella.