This past week I attended Halifax Pop Explosion Music Festival & Conference as a fan and for the first time as a volunteer with their Accessibility and Safety Krew. HPX is close to my heart and this year (my 10th year and the festival's 25th year) did not disappoint.
I saw Lido Pimienta's presentation at the Halifax Central Library, performances by Ms. Banks, Thrillah, and Jay Mayne at Reflections; Patrick Watson, The Rural Alberta Advantage, Yukon Blonde, and Dance Movie at the Forum MPC; Bambii at The Marquee; and Jon Mckiel at The Seahorse. And that's only a small part of all the activities that took place.
The talent came through, the industry came out, it felt like the city was abuzz with music everywhere. Thank you HPX for all that you do, for artists, our community, and of course, the fans – just like me! And our friend Josh White here, crowdsurfing at an HPX show. Party on people!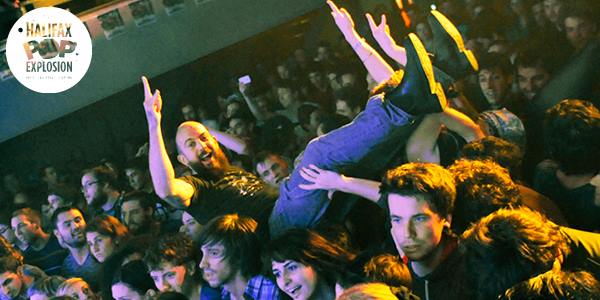 Photo by Halifax Pop Explosion