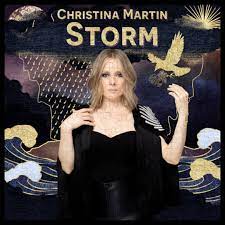 Christina Martin is an award-winning singer, songwriter, musician, and has recorded – and in some instances, co-produced – seven (SEVEN!) albums in her illustrious career to date. I've been lucky to know Christina for over a decade now and it's been truly awesome to see her star rise.
Her latest album, Storm, is set for release this September 1. But, I got to listen to her songs and see the album artwork last summer, in August 2022, at the end stages of it all coming together behind the scenes. Christina invited me to work with her and her team at Come Undone Records to proofread the CD and vinyl artwork, and the liner notes and lyrics inside. Of course, I said, "YES!" and proceeded to be blown away by the magic of everything she made.
Fast forward to today, It's August 23, 2023 and this past weekend I went to see Christina perform songs from her new record with her husband and bandmate, Dale Murray, at Neptune Theatre. She gifted me two tickets to her show and the Storm vinyl and two CDs (one autographed and an I Can Too t-shirt), plus a plantable postcard – all which are sitting in front of me as I type this.
The album is even more beautifl in real life. I could not be more humbled, to not only be part of her team for this release, but to also call Christina my friend.
I'm excited for everyone to soon see and hear the brillence of Storm. Fans can pre-order the record now or purchase it next Friday on Bandcamp, or visit her website for more details.