Eee! I've been waiting to share this story for many months now. It's a story about a man named Adam Lordon and he's the Mayor of Miramichi. He's also a talented TV producer, having worked at MTV Canada, So You Think You Can Dance Canada, and The Marilyn Denis Show. Adam faced a great loss early-on in his career when his mother Nancy died of cancer. His community of friends and family in Miramichi were there to support him, and he's giving back to his community today in ways he never would have imagined.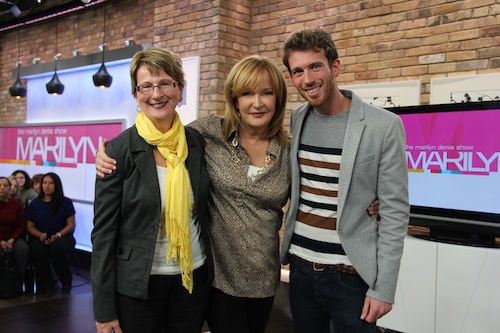 Adam Lordon with his Mom, Nancy Lordon, on the Marilyn Denis Show.
I had the great pleasure of interviewing Adam for Saint Mary's University alumni magazine, Maroon and White, back in March. After getting to know him, from his small-town beginnings to Saint Mary's and beyond, I was left feeling humbled and inspired. At only 32-years-old, Adam is an amazing role model and leader, and I hope when you read his story that you will feel inspired too.